This map of online communities represents the volume of daily social activity based on data gathered over the Spring and Summer of 2010. (All credit to http://xkcd.com)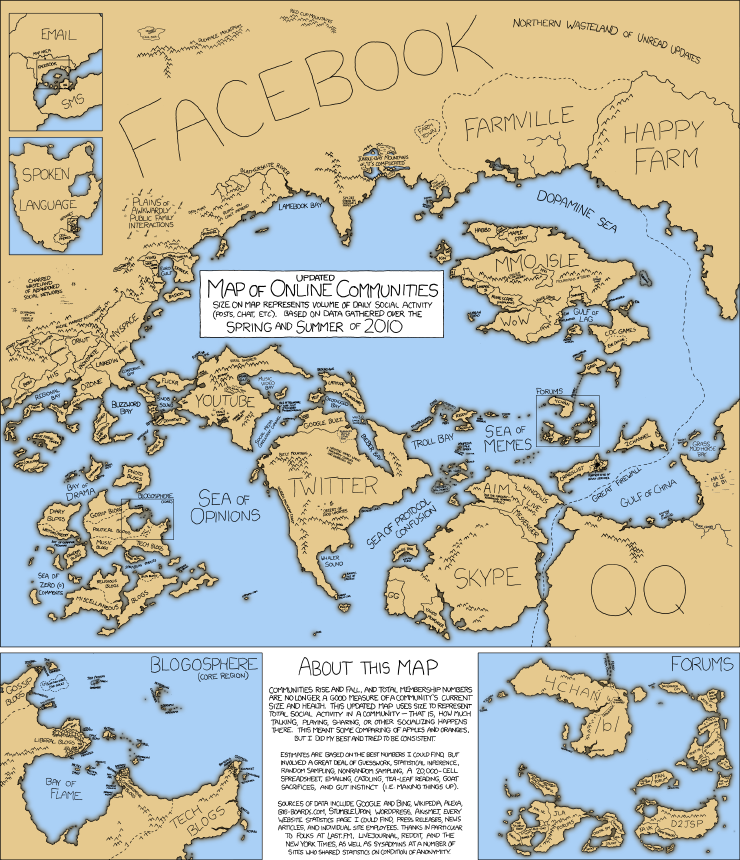 It's interesting to see this all laid out in one view. I challenge Randall Munroe to create this map every year, but I think we can make some educated guesses on the state of 2011. I'll cherry-pick some of the easy ones.
With over 750 million active users, Facebook should have its own continent. Twitter and YouTube's islands double in size. LinkedIn is breaking off from the mainland.  Social games and MMOs will form a union. Will Myspace make a [sexy] comeback? Hopefully with Justin Timberlake at the helm.
For shift and comparison sake, here's the map of online communities as it was in the Spring of 2007.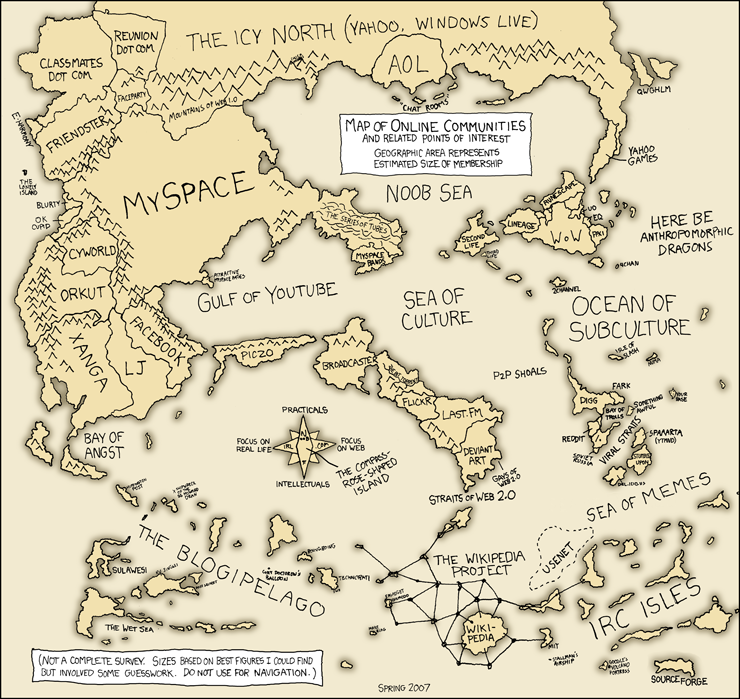 For more infographic fun, check out The State of the Internet 2011.
Who do you think deserves more real estate? Who should be wiped cleaned from the map? This feels like a giant version of the board game Risk.
Your first reaction to this metaphor is probably to take offense. Because let's face it, an octopus isn't exactly one of Mother Nature's cutest creations. But don't take this personally. This is a positive comparison. What I'm referring to is how an octopus behaves in the wild.  It uses its six arms…let me digress for a minute. You'll notice I said 'six' and 'arms'. I recently learned that octopuses have A) arms and legs, not tentacles and B) six arms for manipulation and two legs for push-off propulsion.
Ok, let's get back to the point. An octopus uses its six arms to gather food and manipulate objects. Ultimately returning those objects to the center of its body to feed or observe further. This is very much how your community works. You have social media channels like Twitter, Facebook and LinkedIn. These are the "tentacles." You cast these tentacles out into the web because you know your customers spend their time talking about your brand in those communities and networks and you want to show a presence and take part in those conversations. This is great. But the ultimate goal should be to pull them back to your community and have the conversations on your home turf where it's more easily managed and you hold control. They don't call it "home-field advantage" for nothing.
This is a new play on the old "Hub and Spoke" business model. That model is archaic in my opinion. It's too passive. So try providing value as you normally would when engaging your customers.  And as a final call to action, mention "Hey we have a great example of that on <insert your community here>." You'll see an uptick in pageviews, registrations and participation the more you practice this octopus model.
Are you effectively pulling or driving customers back to your community? Have you tried the "octopus" model?